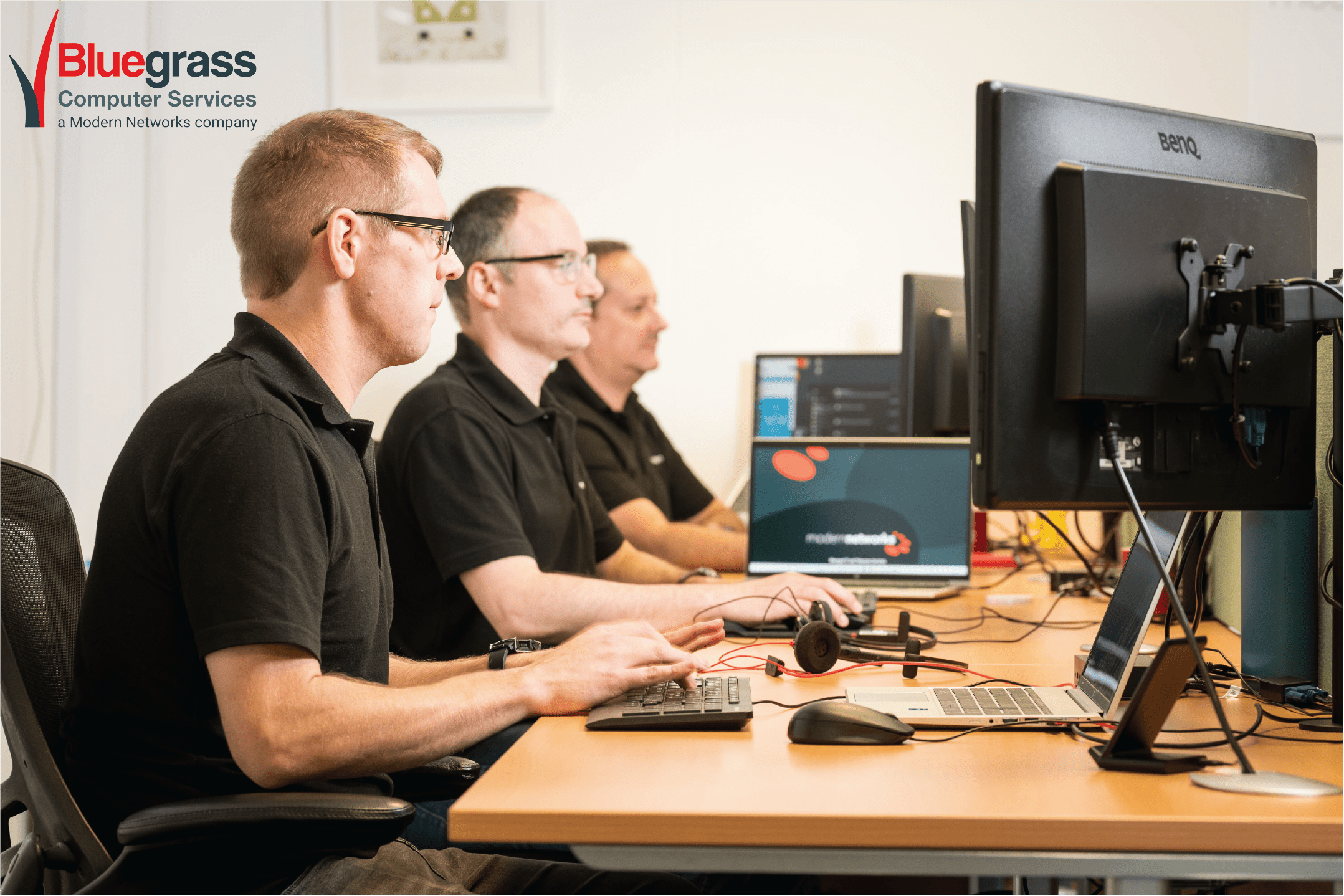 Exeter based IT specialists, Bluegrass Computer Services, has undergone a rebrand and company name change.
Four months ago, Dave and Chris Thomas completed the sale of Bluegrass to Modern Networks, a leading provider of IT and telecoms to the UK's commercial property market and SMEs. The past four months have seen many exciting changes made at Bluegrass.
One such change is the name change from Bluegrass to Modern Networks. It marks a significant milestone in the company's evolution. The comprehensive transformation encompasses a new logo and visual identity and is set to redefine Bluegrass's presence in the South West.
"From day one the Bluegrass and Modern Networks values and culture have been closely aligned, and it's been an exciting four months witnessing first-hand the integration of the two businesses and having the responsibility of moving the business on to become Modern Networks in the South West" said David Thomas, previous owner of Bluegrass. "Bluegrass celebrated its 25th anniversary this year and the exciting journey continues with Modern Networks now taking it forward."
What this means for existing customers, is that its business as usual with more capabilities being offered under the direction of Chris Thomas, Regional Operations Manager. Additional resource has been welcomed into the Exeter team along with new products and services. Customers have a local partner in the South West that has access to further highly skilled resource within the Modern Networks group.
The renaming and rebranding of Bluegrass reflects a strategic approach for Modern Networks to staying at the forefront of the IT and telecoms market and meeting the ever-evolving needs of its valued customers. This is the first step of reinforcing its commitment to excellence and to bring an even more enriching experience to its customers in the South West.
"We are thrilled to embark on this transformative journey at Bluegrass and Modern Networks," said Matt Reeve, CEO of Modern Networks. "Our rebranding of Bluegrass and the introduction of new services reflects our unwavering commitment to drive technical innovation and empower businesses to thrive in the technology age. Having David Thomas with us to start the introduction of this change has been great. Dave created the Bluegrass company name and has been instrumental in driving this change forward."
This is an exciting time for employees and customers. The acquisition of Bluegrass and its growth represents an opportunity to do more for customers, offering a wider range of services and products.
Customers should be rest assured, that despite the name change, that the commitment to providing exceptional services and products remains the same.
For the time being the Bluegrass website will remain in place for ease of access for customers who use the site for remote support and raising tickets. However, the site won't be updated, so for updates on services, guides and our newsletters please visit www.modern-networks.co.uk.
Over the coming months we'll be making further changes to our identity, website, social media profiles, a new visual brand and products.
For more information about what Modern Networks can do for your business call us on 01392 796779 or visit our website, www.modern-networks.co.uk.